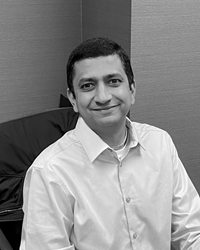 Kaushik has been a leader at Terillium for years. He is very valued internally as well as by our clients.

CINCINNATI (PRWEB)
May 03, 2021
Terillium, an award-winning Enterprise Resource Planning (ERP) consulting company, announced today the promotion of Kaushik Subramanian to Vice President. Subramanian, who previously served as a director at Terillium, has nearly two decades of industry experience.
"I am thrilled to join the Terillium executive team. Over the past ten years it's been a pleasure to grow with the organization, and to be a part of building our Cloud consulting practice. Terillium has a wonderful working environment, that's truly like a family. What I enjoy the most is our collaborative culture, and I look forward to fostering future growth together," said Subramanian.
According to the executive team, Subramanian was recently promoted to Vice President as a result of his leadership skills and dedication to Terillium clients.
"Kaushik has been a leader at Terillium for years. He is extremely knowledgeable when it comes to Cloud applications and has been instrumental in growing our Cloud consulting practice. Kaushik's work is very valued internally as well as by our clients. He has also been a key contributor in building and maintaining our partnership with Oracle," said Warren Bach, CEO and founder of Terillium.
Subramanian's previous role was Director of Cloud Services at Terillium. He has 20 years of experience. Prior to his 10-year career with Terillium, Subramanian worked in consulting, including roles at Oracle and Zanett.
Subramanian has a Bachelor of Engineering from Visvesvaraya Technological University (VTU) in India, and a background in process optimization and supply chain management. He is an expert in Oracle supply chain products, and specializes in providing the latest, leading-edge technology to Terillium clients.
About Terillium

Terillium is an award-winning Oracle Platinum Partner specialized in Enterprise Resource Planning consulting for Oracle JD Edwards, Oracle ERP Cloud, and NetSuite. Terillium has helped over 700 businesses with successful Enterprise Resource Planning projects. Our team of 170+ employees has unsurpassed product knowledge and is straightforward in their project approach.
Share article on social media or email: