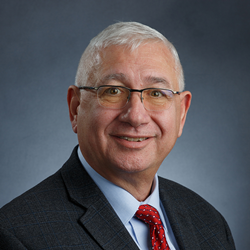 LYNCHBURG, Va. (PRWEB)
July 09, 2021
The Liberty University Office of the Provost has announced the appointment of Joseph R. Johnson, DO, FACOOG (Dist.) to the position of dean of the College of Osteopathic Medicine (LUCOM), effective July 1.
Johnson has been serving as interim dean since December 2020.
"Prior to Dr. Johnson's arrival, Liberty's leadership set a goal to take LUCOM as a well-established osteopathic medical college, both in mission and outreach efforts, to the next level of medical education with more faculty physicians and clinical partners, as well as increase the number of clinical experiences and medical education programs for our students," said Liberty Provost and Chief Academic Officer Scott Hicks. "We are excited to have Dr. Johnson continue to lead us in this new role and advance medical training, technology, funding, and research at LUCOM. His deep desire to serve Christ, and others above self, makes Him the right leader for LUCOM."
Johnson came to Liberty with over 26 years in the medical field in active obstetrical and advanced surgical roles. He developed Oklahoma's first Project ECHO (Extension for Community Health Care Outcomes), an effort that joined medical education with care management to empower clinicians to provide specialty care to rural and underserved communities all while serving at Oklahoma State University. He earned his Doctor of Chiropractic Medicine from the National College of Chiropractic Medicine in Lombard, Ill., and his Doctor of Osteopathic Medicine from the University of Health Sciences – College of Osteopathic Medicine in Kansas City, Mo.
Johnson said he is committed to growing LUCOM into a "top five osteopathic medical school with increased academic opportunities and clinical rotations that are meaningful — rotations that bring our students in front of residency directors and residencies at hospitals, which is the next step of what medical students are looking for."
He is also committed to serving God with his profession, emphasizing "service over self."
"The future of LUCOM education and the vision is to allow our medical students to see how Christian providers work with their patients and are able to take the healing message to a patient, but also take the message of Christ to a patient," Johnson said. "We are trying to produce the next generation of osteopathic physicians — Champions for Christ — and that requires a lot of us working together to share with the students our relationship with Christ, and to mentor them on what it truly means to be a physician of that quality."
Under Johnson's leadership, working closely with LUCOM Admissions, LUCOM will soon welcome 162 osteopathic medicine students in its eighth class.
"Building on the successes of the past, including increased MCAT scores for admitted students, rising licensing exam scores, excellent match rates for graduates entering residency programs, faculty recruitment and development, my goal is to take these 162 students into LUCOM and then graduate 162 new osteopathic medicine physicians four years later to get them into residency," Johnson said.
"When I first arrived, it was important to look at the end in mind and ask: 'What does a medical student that is very, very successful, has good academics and passes their boards with flying colors and gets into the residency programs of their choice look like? And then reverse engineer that to, what does our pipeline development look like," he explained. "We want to build a robust pipeline where applicants desire to come to Liberty University and to LUCOM over other programs. We want to secure our relationship with students and their families, so the students only want to come to Liberty University. Even if that means waiting a year to get in — we know that they know that Liberty University is the osteopathic medical college they are looking for."
Johnson said LUCOM will maintain its steady course of student recruitment.
"We are adding new teaching platforms with an emphasis on curriculum design. We are expanding our learning resources for testing and board preparations. We will develop new clinical opportunities in rural and underserved areas of Virginia that will provide expanded access for patients' healthcare. And we will maintain relationships with our incredible, hard-working alumni," he said. "I am thankful for my leadership team — Dr. Chad Brands, Dr. Tim Leonard, and Chris Kennedy — and equally appreciative of the support from Liberty University Provost Dr. Scott Hicks. All of us at Liberty University — faculty and staff, leadership, and students — are a part of the body of Christ and it is through His guidance and grace upon Liberty and the work we are doing, that we may take LUCOM to new heights and continue our education needs in teaching osteopathic manipulative medicine."
The recruitment process for naming a new dean was carried out through a collaborative agreement with industry leaders in academic healthcare system and medical education recruiting, Merritt Hawkins & Associates and AMN Healthcare.
Share article on social media or email: