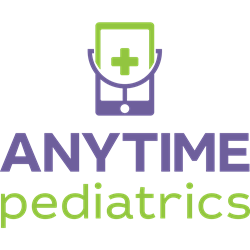 We have a number of different languages spoken by families in our practice and it is great to be able to answer questions, do routine visits and provide counsel to Spanish-speaking patients and families

NASHVILLE, Tenn. (PRWEB)
June 23, 2021
In its mission to advance innovation, strengthen patient-clinician connections and elevate pediatric outcomes, Anytime Pediatrics introduced its new Virtual Front Desk, Live Interpreter and Spanish App to connect more families to their medical home, virtually.
The new Virtual Front Desk, imagined by Anytime customers, is an innovation designed to mimic the workflows of an in-office pediatric visit. With the new Virtual Front Desk, a parent can enter a visit through the Anytime Pediatrics platform, provide basic details like weight and temperature, then list the child's chief complaint and reason for the visit. The patient gets checked in and routed to the virtual waiting room where staff can connect directly or by chat to triage the patient prior to seeing a clinician. The Virtual Front Desk creates greater efficiencies for the practice and the patient while allowing clinicians to focus on medicine and improving outcomes instead of managing virtual visits themselves.
"The idea for the Virtual Front Desk came from customers who want to further expand and fully integrate virtual care into their office workflows rather than work around the limitations of a video platform," says Dr. Mick Connors, M.D., co-founder and CEO of Anytime Pediatrics. "Our customers are innovators in virtual care and their ideas help shape our development roadmap."
Improving Access for Pediatric Patients and Families has been the foundation of Anytime Pediatrics since its beginning. "With the goal of getting the right care to more kids at the right time, we moved to incorporate a live interpreter service and Spanish language App that is available when families need it most – anytime," says Angie Connors, COO and co-founder of Anytime Pediatrics. "The natural next step was to develop our Anytime Application in multiple languages, starting with Spanish, our greatest need." The Live Interpreter and Spanish App help bridge communication gaps and improve access to healthcare for families while also improving outcomes.
The 24/7 Live Interpreter and Spanish language App are accessed through a simple button on the Anytime screen. "We have a number of different languages spoken by families in our practice and it is great to be able to answer questions, do routine visits and provide counsel to Spanish-speaking patients and families in the greater Richmond, VA area.  We intend to expand to more languages and use the interpreter service in both virtual and office visits," noted Dr. Iwashyna of Acorn Pediatrics.
The Virtual Front Desk is an advanced feature available in Anytime Premier. Included in both Anytime Premier and Go solutions, the Live Interpreter and Spanish App are available to all customers.
About Anytime Pediatrics
Headquartered in Nashville, Tenn., Anytime Pediatrics was founded in 2016—for pediatric clinicians by a pediatrician and pediatric practice administrator—with the mission of advancing innovation that strengthens the patient-clinician relationship and elevates pediatric care. With both its experienced pediatrician and pediatric practice management leadership, the innovative technology company is a pioneer in virtual healthcare that has grown to serve thousands of pediatric clinicians nationwide and hundreds of thousands of children.
For more information, visit anytimepediatrics.com.
Share article on social media or email: