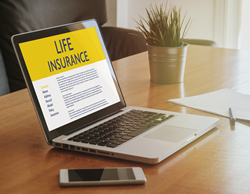 We need to improve insurance for the masses. We do this with advanced technology, which makes the products more accessible to the consumers, and increases the scope for the agents.

LOUISVILLE, Ky. (PRWEB)
March 31, 2021
The insurance industry's stubborn refusal to adapt digital technology into its operations puts the future of legacy companies in peril as its reliance on antiquated actuarial tables continues to deny policies to millions of people. That's real money that these outdated companies are bleeding—millions, if not hundreds of millions—of dollars. "We need to improve insurance for the masses. We do this with advanced technology, which makes the products more accessible to the consumers, and increases the scope for the agents," said Paul Ford, co-founder and CEO of Traffk, an insurance underwriting and distribution platform.
Analyzing more than 4,000 robust data points, Insurtech solutions can help a company rapidly design, develop and distribute bespoke insurance products. Risk management services including proprietary alternative data sets, streamlining portfolio management and digital risk experience monitoring can also help improve efficiency, profitability and growth for carriers, reinsurers, underwriters, agents and distributors while giving consumers new and in-demand products.
Typically, life insurance companies use 5 categories to determine what type of life insurance a person qualifies for, and if you have a pre-existing condition such as diabetes, high blood pressure or mental health issues, you might automatically be disqualified or only offered a very expensive policy.(1) With the use of the right insurance technology, potential policyholders don't have to visit the doctor or answer the same questions over and over to get insurance. Robust data points are used to calculate risk and compile digital data from previous doctors' appointments and medical records to create a wider spectrum of options for consumers so that if you have a pre-existing condition but have been managing it well and are otherwise healthy, you have options. The newer companies that embrace technology, offer fast results and that have an agent just a click away are leaving legacy insurance companies in the dust.
"Digital products, such as New Spectrum Life Insurance, are designed for everyday people with average health or pre-existing conditions so that their family has the monetary support they need," said Brandon Potter, Product Director for Traffk. "The focus has to be in making the process fast and easy to empower agents and help consumers so that they no longer have to worry about increasing financial burdens for their families."
Traditional policies are very limited, and it is very time consuming to qualify for one or to find out what your options are. According to a Munich RE report, 50% of consumers are more likely to purchase an offer that appears quickly—and the traditional way of qualifying for life insurance has too many barriers and takes too long. By the time consumers spend hours filling out applications and answering the same questions over and over, taking a medical exam, and then wait for weeks while the insurer checks and reviews background information including prescriptions and driving history, most consumers have lost interest.(2)
New Spectrum Life Insurance uses technology to reduce the wait time from weeks to minutes, the application process takes 20 minutes after which the consumer receives information about policies that are customized to fit his or her life and situation. This not only benefits the consumers, but with New Spectrum Life Insurance, agents are able to be more responsive, have more applicable products to offer their clients and are able to be more profitable for themselves in the end.
While many legacy life insurance companies were not able to quickly pivot to a work-from-home lifestyle for their agents, insurance technology gives agents the tools and processes they need to successfully work from any space.
"Lots of companies talk about giving consumers options and the ability to buy a product any way they want but then don't follow through on that promise. New Spectrum Life Insurance does. It combines technology with personal knowledge to give consumers life insurance that is relative and useful to them and agents new opportunities to help more clients," said Kevin McKenna, COO of Traffk.
About Traffk

Traffk is an innovative insurance underwriting and distribution platform designed to build and launch modern insurance products and brands that scale. With more than 25 years combined leadership in insurance and AI, Paul Ford and Glen Hibler co-founded Traffk as a solution to the problems of inefficient, assumption-based underwriting and slow processing in the insurance industry. Traffk's goal from the start has been to comprehend the risks and modernize the insurance underwriting process by leveraging modern-day tools. Traffk enables risk bearers to leverage the underwriting process with its data-enrichment technology and integrates and analyzes data to glean insights pertinent to insurance. Traffk works with agents as partners, providing them with the digital tools to work with an efficient sales process and engage consumers with a fast, accurate process for insurance policies, changing the insurance landscape for the better, forever. Visit http://www.traffk.com and http://www.newspectrumlife.com.
1.    Severino, Carly, "Life insurance with pre-existing conditions." | 11 February 2021; Bankrate, bankrate.com/insurance/life-insurance/pre-existing-conditions.

2.    Forberg, Sigrid, "Why Is Buying Life Insurance So Difficult?" | 18 March 2021; MoneyWise, moneywise.com/a/why-is-buying-life-insurance-so-difficult.

Share article on social media or email: