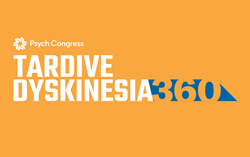 "The TD360 initiative has a demonstrated record of enhancing competence and knowledge in learners while achieving therapeutic practice change among clinicians," said Rakesh Jain, M.D., M.P.H.

MALVERN, Pa. (PRWEB)
March 31, 2021
HMP Global, a leading healthcare event and education company, today announced the next phase of its TD360 initiative focused on facilitating the implementation of evidence-based and expert-recommended strategies to diagnose and manage Tardive Dyskinesia (TD). TD360 is part of the company's premier digital destination for information and education, the Psychiatry & Behavioral Health Learning Network, which also includes the renowned Psych Congress educational events. Now in its 4th year, the initiative covers critical topics including early identification of TD, guideline-directed management across the spectrum of severity, emerging clinical trial data surrounding long-term efficacy and safety, improving adherence, and other patient communication strategies.    
The expanded multi-channel initiative, entitled "Tardive Dyskinesia Across the Complexity Spectrum – From Quality of Live Improvement to Novel Treatments" will feature a year-long series of educational activities including live events, enduring web-based activities, and ongoing updates to the online TD360 Resource Center. Also included are case-based video vignettes featuring real patient/provider encounters that explore considerations for differential diagnosis from other similar conditions, and TD identification and treatment of mild, moderate, and severe symptom levels. The 2021 initiative also marks an important partnership with CE Outcomes which will provide an in-depth performance-level outcomes analysis comparing practice behaviors and decision making with psychiatry clinicians.
"The TD360 initiative has a demonstrated record of enhancing competence and knowledge in learners while achieving therapeutic practice change among clinicians," said Rakesh Jain, M.D., M.P.H. "As we continue to bolster the platform via timely and relevant clinical insights, we remain committed to providing excellence in educational programming and illuminating strategies for enhanced patient outcomes."
Expert faculty who provided critical insight to the expanded educational platform include:


Leslie Citrome, MD, MPH, Clinical Professor of Psychiatry and Behavioral Sciences, New York Medical College, Valhalla, New York

Carmen Kosicek, MSN, APNP, PMHNP-BC, CEO and Founder, Alay Health Team, Medford, Oregon

Rajeev Kumar, MD, Director, Rocky Mountain Movement Disorders Center, Huntington's Disease Society of America Center of Excellence, Colorado Neurological Institute, Englewood, Colorado
TD360 is proudly supported by Teva Pharmaceuticals and Neurocrine Biosciences and continues to educate thousands of clinicians in pursuit of enhancing the quality of care for patients at-risk or suffering from TD.
To learn more, visit TD-360.com.
ABOUT HMP GLOBAL  
HMP Global is the force behind Healthcare Made Practical and is a multichannel leader in healthcare events and education, with a mission to improve patient care. The company produces accredited medical education events – in person and online through its proprietary VRTX virtual event platform – and clinically relevant, evidence-based content for the global healthcare community across a range of therapeutic areas. Its brands include Consultant360, the year-round, award-winning platform relied upon by primary care providers and other specialists; Psych Congress, the country's largest independent mental health meeting; Evolution of Psychotherapy, the world's largest psychotherapy conference; Rx Drug Abuse & Heroin Summit, the nation's largest meeting addressing the opioid epidemic; EMS World Expo, the world's largest EMS-dedicated event; and the Symposium on Advanced Wound Care (SAWC), the largest wound care meeting in the world. For more information, visit hmpglobal.com.
Share article on social media or email: