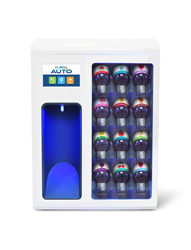 The FLAVORx Auto is a game changing approach to time-savings and efficiency in the pharmacy

COLUMBIA, Md. (PRWEB)
July 15, 2021
FlavorMaster, LLC, today announced the formation of a new company focused on improving pharmacy efficiency, reducing workload for pharmacists, and enhancing the patient experience. This new entity combines FLAVORx, Fillmaster, and FillPure, into one larger and integrated company called FlavorMaster, LLC, which will be based in Columbia, Maryland. The motivation for the merger was the demonstrated success and rapid acceptance of the new FLAVORx Auto dispensing system. The FLAVORx Auto automates both reconstitution and flavoring of liquid medications, saving pharmacist's time and allowing parents to choose the best taste for their child's medicine.
"The FLAVORx Auto is a game changing approach to time-savings and efficiency in the pharmacy," said Stuart R. Amos, President and CEO of the newly formed FlavorMaster, LLC. "The rapid adoption of this technology, combined with the measurably positive impact it is having in pharmacies, made the decision to merge FLAVORx, Fillmaster, and FillPure an easy one."
The FLAVORx Auto is installed in over 2,000 pharmacies across the U.S., including CVS, Giant Eagle, HEB, King Soopers, Kinney Drug, Kroger Cincinnati, Kroger Nashville, Publix, and Smith's pharmacies. The technology is proving to be an important tool to help pharmacies save time and provide exceptional service in today's lean, highly competitive retail pharmacy environment. With demand for antibiotics expected to climb sharply as children return to daycare and school this Fall, consolidating product development, sales, marketing, and service under one roof ensures FLAVORx Autos are delivered to pharmacies on time and of consistently high quality to meet that demand. Importantly, the FillPure field service operations are now integrated with FLAVORx and Fillmaster, ensuring the FLAVORx Auto is maintained properly and water quality in pharmacies consistently exceeds USP guidelines.
About FlavorMaster

FlavorMaster, LLC supplies medication compliance solutions, pharmacy automation technology, water filtration systems, and equipment maintenance programs to over 45,000 retail pharmacies, hospitals, and veterinary clinics across North America. The company's brands include FLAVORx, FLAVORx for Pets, Fillmaster, FillPure, and Pill Glide.
Share article on social media or email: