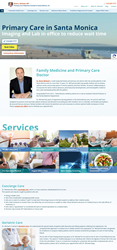 I am looking forward to sharing my knowledge and helping KKLA listeners stay healthy and informed, says Dr. Brent Michael

SANTA MONICA, Calif. (PRWEB)
June 23, 2021
Offering his medical expertise, Dr. Brent Michael will be a recurring guest on this popular radio program, starting on Saturday, June 24, 2021, with a discussion focusing on men's preventive health. KKLA-FM 99.5 has been serving the Southern California radio audience for more than 25 years and is one of America's most listened to Christian talk stations. Doc Talk is a weekly rotating resource featuring candid doctor discussions that keep in mind what the listeners want to hear and talk about and is hosted by Rachel Grace. The program offers a candid, straightforward conversation with a variety of healthcare providers to get personal and dive into highly requested health, wellness and lifestyle issues. Dr. Brent Michael will be a valued addition to the show, as he is committed to serving the local community and has extensive knowledge in internal medicine, family medicine and helping patients get the urgent care and treatment needed to restore their health.
Dr. Brent Michael is a well-known primary care doctor in the Los Angeles area. At his practice, located at 2001 Santa Monica Blvd, Suite 1260 W in Santa Monica, California, he provides high-quality, patient-centric care for the entire family. Dr. Michael's practice is a "one-stop" medical office that includes a full laboratory, radiology, echocardiography and bone densitometry, all on-site, saving patients' valuable time. It also makes it possible for Dr. Michael to provide same day patient evaluations, diagnosis and treatment plans. The comprehensive list of services provided at Dr. Brent Michael's practice includes routine well-exams, sports physicals, acute care, cardiovascular care, urgent office visits and much more. Dr. Michael also has received specialized training in geriatric health care services, ensuring patients from every age group can receive the advanced care they deserve, in a professional and friendly environment. Most major insurance plans are accepted at his state-of-the-art clinic, including Medicare.
"I am looking forward to sharing my knowledge and helping KKLA listeners stay healthy and informed," says Dr. Brent Michael
More about Dr. Brent Michael:
Dr. Brent James Michael graduated from Southern Illinois University School of Medicine in 2000. He completed his internship at the University of Miami and residency at the University of California, Los Angeles. Dr. Michael began his private practice and affiliation with St. John's Hospital in Santa Monica in 2004. Dr. Michael is also a professor at UCLA in the Department of Family Medicine and has been affiliated with UCLA since 2004. He has deep ties with the community, serving on many local boards including the American Red Cross, UCLA, St. John of God as well as other important local committees. For more information about the primary care practice of Dr. Brent Michael please visit http://www.brentmichaelmd.com or call the office directly at (310) 829-7777.

Share article on social media or email: