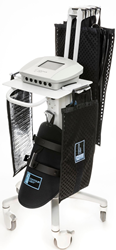 After years of hard work perfecting the benefits of the Contour Light System, we are proud that its true effectiveness now has its well-earned FDA clearance,Contour Light has already benefited so many practitioners and their clients across multiple industries." Joseph Martin, Contour Research

ORANGE COUNTY, Calif. (PRWEB)
July 20, 2021
Contour Research, LLC, the manufacturer of the Contour Light System, is excited to announce its FDA clearance for multiple indications. The Contour Light System is now FDA-cleared for use as a non-invasive dermatological aesthetic treatment for the reduction in the circumference of the hips, waist, and thighs. It is also FDA cleared for the temporary relief of minor muscle and joint pain, arthritis, muscle spasms, stiffness, relaxation of muscle tissue, and increased local blood circulation.
"After years of hard work perfecting the benefits of the Contour Light System, we are proud that its true effectiveness now has its well-earned FDA clearance," said Joseph Martin, President of Sales and Marketing for Contour Light Devices. "Contour Light has already benefited so many practitioners and their clients across multiple industries. We are truly excited for chiropractors, acupuncturists, massage therapists, pain management specialists, dermatological specialists, and others in the health and wellness arena to thrive from this highly effective treatment and the reliable results it provides," Martin added.
Red light therapy activates the body's natural healing response. It stimulates the mitochondria to energize and cleanse the cells while triggering the lymphatic system to detoxify the body. What sets the Contour Light red light system apart from other similar devices is the proprietary reflective coating that continually captures and redirects light energy back into the tissue for maximum strength and absorption, which translates to optimal results for patients.
"There are thousands of clinical studies showing how this spectrum of light energy interacts with the cells in the human body," says Martin. "This has created an explosion of interest in the marketplace, increasing public awareness of this truly remarkable non-surgical, non-pharmaceutical, and non-invasive option. This is why low-level red light therapy is now one of the most in-demand treatments available."

To learn more, please visit: contourlightdevices.com.
About Contour Light Systems:
The Contour Light System, invented and designed by Douglas Dreier, is the most advanced red light and near-infrared therapy system available for professional and clinical settings. Featuring the latest advancements in red light therapy device technology, Contour Light delivers LED and near infrared-light energy in a flexible pad system that is customizable to each patient to attain the best results. Patients love Contour Light for the consistent and dramatic outcomes – and practitioners benefit from happy patients and a new revenue stream. To learn more, please visit: contourlightdevices.com.
Contact:

Joseph Martin

Contour Research, LLC

jmartin@contourlight.com

949.899.7932
Share article on social media or email: