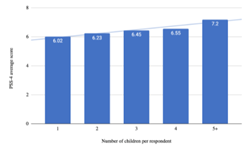 BOSTON (PRWEB)
May 03, 2021
A new study conducted by Ovia Health, the only clinically backed family health digital platform, found markedly increased levels of self-reported stress among parents during the pandemic, struggling to balance work, childcare, education, and keeping their families safe. This research was presented at the American Psychiatric Association Annual Meeting May 1-3, 2021.
The changes parents have had to navigate over the last year have been monumental, including employment loss, changed home environments, school closures, health concerns, financial strain, and more. For parents of several children especially, those challenges can feel like they build exponentially, and point to the need for employers to evolve and meet the growing needs of working parents.
In an online survey answered by nearly 5,000 users of the Ovia Parenting program, respondents reported higher stress levels than before the start of the pandemic. Among all parents who participated in the survey, the average score on a four-item Perceived Stress Scale (PSS-4) evaluation was 6.1 out of a maximum score of 16, where higher scores indicate higher stress levels. Those stress levels, however, increased stepwise with the number of children each respondent had, reflecting the increased burdens felt by parents in larger families.
Average Perceived Stress Scores among parents, based on number of children
"These findings clearly demonstrate that parents are experiencing new, higher levels of stress," said Dani Bradley, MS, MPH, director of Clinical Services and Evidence, Ovia Health. "Although we're hopeful that the effects of the pandemic will be lessened through increased vaccine distribution, the problems and concerns raised by parents in this study aren't going away."
For all parents who responded, the hierarchy of their top concerns remained the same: transmission of COVID-19, childcare closures, returning to work, concerns about developing postpartum depression and other mental health conditions, and finally, job security and finances. Parents with fewer children were also concerned about access to support services like lactation consultants and therapists, as well as working from home with children in the house, although those concerns generally weren't shared by parents with four or more children.
"The pandemic has placed many parents in untenable positions, and it's imperative that employers respond," said Gina Nebesar, co-founder and chief of product at Ovia Health. "Employers should lead with empathy, provide resources to meet the needs of parents, and invest in long-term benefits and changes to support working parents and their families."
Actions employers can take now to help working parents include: reducing the burden of childcare closures through stipends or benefit offerings, making return to work plans clear, simple and safe, helping establish programs to normalize mental health conversations and support, specifically when it comes to perinatal depression, and having transparent conversations with employees about job security and financial assistance.
The new findings from Ovia add more credence to what is already a known issue, and this survey should be seen as an evidence-based wake-up call for employers to acknowledge their employees' struggles and get in front of them by introducing comprehensive, actionable and equitable programs to provide the needed support and alleviate some stress factors during the pandemic and beyond.
About Ovia Health

Since 2012, Ovia Health has helped more than 15 million people successfully navigate their parenthood journeys and is on a mission to make a happy, healthy family possible for everyone. Ovia is the only family health solution clinically proven to effectively identify and intervene with high-risk conditions. The company's 50+ clinical programs, including predictive coaching and personalized care plans, help prevent unnecessary healthcare costs, improve health outcomes, and foster a family-friendly workplace that increases retention and return-to-work. For more information, visit OviaHealth.com.
Media Contact:

Shannon Mullins

Scratch Marketing + Media for Ovia Health

shannon@scratchmm.com
###
Share article on social media or email: