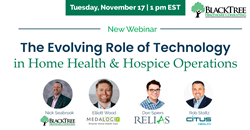 In The Evolving Role of Technology in Home Health and Hospice Operations, BlackTree has assembled a panel of technology experts who are leading a charge into the future of home health and hospice…

KING OF PRUSSIA, Pa. (PRWEB)
November 10, 2020
BlackTree Healthcare Consulting ("BlackTree"), the leader in post-acute healthcare consulting, is proud to present The Evolving Role of Technology in Home Health & Hospice Operations, a no-cost webinar taking place on November 17 at 1 pm ET.
Anyone interested in learning about how new technology solutions are giving healthcare agencies the power to adapt and thrive through the operational challenges posed by the pandemic can register to attend the free virtual event at https://www.bigmarker.com/blacktree-healthcare-consult/Home-Health-Hospice-Technologies-for-the-Pandemic-and-Beyond?utm_bmcr_source=PR.
In The Evolving Role of Technology in Home Health and Hospice Operations, BlackTree has assembled a panel of technology experts who are leading a charge into the future of home health and hospice and giving providers the tools required for success during this unique time. Hosted by BlackTree Managing Principal Nick Seabrook, the panel featuring Rob Stoltz of Citus Data, Elliott Wood of Medalogix, and Don Spiers of Relias will address the major operational challenges faced by our industry and shed light on the technologies that have made these hurdles surmountable.
About BlackTree Healthcare Consulting
BlackTree Healthcare Consulting provides the strategies, resources, and expertise that healthcare agencies use to fulfill their vision. Through BlackTree's inclusive suite of support services, agencies develop agile revenue cycle and clinical practices which ensure regulatory compliance and improve operational efficiency.
For more information, visit http://www.blacktreehealthcareconsulting.com.
Share article on social media or email: