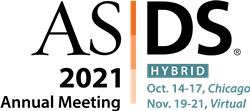 After such a challenging year, we're excited to offer an in-person conference for dermatologists to reconnect, share experiences and support each other.

ROLLING MEADOWS, Ill. (PRWEB)
July 06, 2021
The American Society for Dermatologic Surgery (ASDS) has opened registration for its first hybrid annual meeting featuring two meeting experiences: in-person on Oct. 14-17 in Chicago, Illinois, and virtually on Nov. 19-21. Registration for the in-person Chicago meeting includes the virtual experience. Alternatively, attendees can purchase a virtual only ticket. Both options include on-demand access for 60 days following the virtual event.
All board certified dermatologists and office staff are invited to the full meeting experience. The conference features four educational tracks:

Cosmetic Dermatologic Surgery: 25 sessions

Skin Cancer/Reconstruction: 18 sessions

General Dermatology / Advocacy / Other: 10 sessions

Practice Management: 17 sessions including six designed for office staff in partnership with the Association for Dermatology Administrators and Managers (ADAM)
"The ASDS Annual Meeting is a favorite among dermatologists because it focuses on the best in procedural education and offers interactive and unique session formats – including hands-on training across all career levels – while providing many opportunities to connect, network and have fun," said ASDS President Mathew Avram, MD, JD. "I'm looking forward to greeting everyone during our Annual Membership Meeting at the Hyatt Regency Chicago. We've found new ways to connect over the last year through virtual events and social media, but I'm thrilled it is safe for our members to meet in person again. The ASDS Annual Meeting offers THE best opportunity to do that."
The opening keynote speaker is Alison Levine, a leadership expert, polar explorer and mountaineer who is no stranger to extreme environments. She has survived sub-zero temperatures, hurricane force winds, sudden avalanches…and a career on Wall Street. Alison will present, "On the Edge: The Art of High-Impact Leadership." The Annual Lawrence M. Field, MD, Honorary Lecture will be presented by Eckart Haneke, MD, PhD, of Germany. Dr. Haneke is a widely published author and has given 1,600 lectures at national and international conferences and surgical courses including live surgeries in over 30 countries discussing various dermatologic surgery topics. His main interests are in dermatological surgery, oral mucosal diseases, dermatopathology and nail diseases. Pearl E. Grimes, MD, has been awarded the third Vic Narurkar, MD, Innovations in Aesthetics Honorary Lectureship, which was created in 2019, in partnership with Allergan Aesthetics, to honor the late Dr. Narurkar's many contributions and pioneering efforts in the field of aesthetic medicine. Dr. Grimes is a world-renowned authority on vitiligo and pigmentation disorders, helping patients of all ethnicities and skin types from all over the world at her southern California practice.
"After such a challenging year, we're excited to offer an in-person conference for dermatologists to reconnect, share experiences and support each other," said ASDS Annual Meeting Work Group Chair M. Laurin Council, MD. "Our Chicago attendees have the opportunity to learn from three patient demonstrations in which they are given a chairside view of injectable and microneedling procedures with commentary from experts in the field. The skin cancer and reconstruction track offers the latest updates in melanoma treatment and high risk skin cancers, discussion of solving complicated cases for the best patient outcome, making successful skin grafts and nasal, ear and perioral reconstruction. This is the best meeting if you're looking to enhance or expand your procedural / surgical skills and learn about the most important issues facing every dermatologist."
Daily plenary sessions will cover Science; Emerging Therapies; Wellness / COVID-19; Cultural and Ethnic Diversity in Dermatology; Dermatologic Surgery Pearls; Complications; the popular Iron Surgeon competition; and Breaking Bad. Several new topics are planned for 2021, including:

Pre-Conference: Comprehensive Overview of Lasers/Energy-Based Devices

Surgical Lifting Procedures

Our Take on a Good Take: Making Your Grafts Successful

Cosmeceuticals, Nutraceuticals and Bioidentical Hormones

Silver Linings from COVID-19

Pigmentary Pearls

Cosmetic Tweets

How to Grow Your Business from Inside Out

Therapeutic Uses of Botulinum Toxin That Dermatologists Should Be Able to Perform

Mohs Histology

Shared Decision Making: Physician and Patient Perspectives on Skin Cancer Treatment

Diversity, Equity and Inclusion
"We are also thrilled to offer a virtual-only meeting experience allowing attendees to digitally connect with this unparalleled educational content," added ASDS Annual Meeting Work Group Co-chair Deirdre Hooper, MD. "There will be live Q&A after most sessions, digital networking opportunities and a virtual exhibition – all available live in November and on-demand 60 days following the event."
The pre-conference on Wednesday, Oct. 13 offers a Chemical Peels Workshop (maximum 6.00 CME Credits); Comprehensive Overview of Lasers / Energy Based Devices (maximum 3.00 CME Credits); full day Innovation and Entrepreneurship Symposium; Unplugged: Straight Talk About Devices and More; and Industry Organized Hot Topic Dinners.
In-person participants can claim up to 27.25 CME at 77 meeting sessions, and virtual meeting attendees can claim up to 81.25 CME across 74 on-demand sessions. Full session and registration details are available at https://asds.net/AnnualMeeting. Contact education@asds.net with any questions.
# # #
About the American Society for Dermatologic Surgery

The American Society for Dermatologic Surgery (ASDS) is the largest specialty organization exclusively representing dermatologic surgeons who have unique training and experience to treat the health, function and beauty of skin throughout every stage of life. ASDS members are recognized as leaders in the field of cosmetic and medically necessary skin surgery. They also are pioneers in the field; many are involved in the clinical studies that bring popular treatments to revitalize skin and fill and diminish wrinkles to the forefront. Their work has helped create and enhance many of the devices that remove blemishes, hair and fat, and tighten skin. Dermatologic surgeons also are experts in skin cancer prevention, detection and treatment. As the incidence of skin cancer rises, dermatologic surgeons are committed to taking steps to minimize the life-threatening effects of this disease. For more information, visit https://asds.net.
Follow ASDS Members on Facebook, Twitter and Instagram.

Locate a dermatologic surgeon in your area: http://asds.net/find
Share article on social media or email: