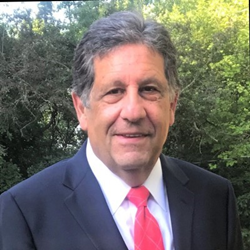 Jamian said, "I am very fortunate to work with many dedicated people and I am proud of the accomplishments we made during my tenure."

TROY, Mich. (PRWEB)
June 30, 2021
The County Road Association of Michigan (CRA) serves 63 county road commissions and is responsible for safe, efficient roads and bridges in the State. CRA works collaboratively with county, township and municipal governments, as well as local business communities and economic development agencies, industries and the public. Every year they select a candidate for their "Distinguished Service Award." This year, Greg Jamian, the former Oakland County Road Commissioner and former Board Chairman was honored. Jamian said, "I am very fortunate to work with many dedicated people and I am proud of the accomplishments we made during my tenure." Jamian lead Michigan largest road system, Oakland County, for 12 years as a board member and four years as the Road Commissioner.
Winning awards is not new to Jamian, as a longtime community and business leader in the healthcare industry, he has devoted his life to serving the public and patients in post-acute care, as CEO and President of AmeriCare Medical, a prominent home health company in Troy Michigan. Jamian has also received awards in the cable television industry, producing a monthly show called Boomer Health at Home, with programming designed to educate the communities of Birmingham, Bloomfield Hills, Beverly Hills and Franklin. "Greg has AmeriCare poised to benefit from the increased demand of medical services and supplies delivered into the home setting for an aging population," stated Maggie Ornazian, RN and Director of Nursing for AmeriCare Medical.
For over four decades, AmeriCare Medical, Inc. is a Michigan locally owned and operated company that provides integrated health care solutions to hospitals, assisted care facilities and private homes throughout State. AmeriCare Medical, Inc. is the parent company of AmeriStaff Nursing Services, Sun Medical Equipment, Rx iV Infusion Pharmacy and Oak Bridge Case Management. AmeriCare Medical provides "peace of mind" and dignity, for the family and patient by offering the convenience of a "one stop shop" for all your home healthcare needs.
For more information visit: http://www.americaremedical.com
Share article on social media or email: