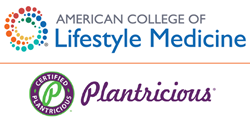 "This partnership forges a new way to help physicians and other health care professionals fulfill the food-as-medicine promise."

ST. LOUIS (PRWEB)
November 19, 2020
The American College of Lifestyle Medicine (ACLM) has announced the addition of plant-based food brands certifier Plantricious to its Corporate Roundtable. The Corporate Roundtable convenes thought leaders and industry professionals to explore effective clinical innovations, activate marketing strategies, accelerate reimbursement and policy adoption, and pursue research and demonstrations of Lifestyle Medicine in practice. Plantricious, which certifies plant-based food brands based on strictly defined, evidence-based nutrition guidelines, helps the public and health professionals in making food-as-medicine decisions.
The Roundtable launched in 2015 and has grown to include more than 30 active member organizations. In pursuit of sharing scientific findings and best practices, Plantricious will now work alongside fellow roundtable members and key leaders within ACLM as a contributing partner and will play an active role at ACLM's annual conference.
It is widely recognized that a lifestyle including a predominantly whole food plant-based diet may help prevent, arrest, or even reverse chronic diseases such as heart disease, stroke, type 2 diabetes and cancer. According to the International Food Information Council, while 78% of consumers change their eating habits per their health care professional's recommendation, patients can find it difficult to gauge the nutritional merits of plant-based options. The Plantricious seal is the first certification that makes it easy for consumers to find brands that meet a strict criteria of being 100% whole food plant-based, minimally processed, have no added oils, sugar, or artificial flavors and preservatives, while also containing a maximum of 1miligram of sodium per calorie and containing a minimum of 2 grams of fiber per 100 calories.
"This partnership also offers many new opportunities for Plantricious certified brands to connect with the 5,000-plus clinicians who are members of ACLM," said Plantricious founder and CEO Paige Ohliger. "Given physicians see an average of 3,000 to 6,000 patients a year and there are almost 1 million practicing physicians in the U.S., there are endless possibilities to mutually benefit food companies as well as medical professionals and patients. "
"This strategic partnership creates a first-of-a-kind bridge between the health care community and Plantricious certified brands, forging a new way to help physicians and other health care professionals fulfill the food-as-medicine promise," said ACLM President Cate Collings, MD, FACC, MS, DipABLM. "The Plantricious seal offers a simple way to identify health-promoting, nutritious foods that physicians and other health professionals can trust and rely upon when directing their patients to make healthful, plant-nutritious choices."

"We worked with the nation's leading health care experts to define the Plantricious seal standards, so ACLM was a natural fit to join our mission in providing a trusted and transparent way to identify plant-nutritious foods," said Ohliger. "Our carefully cultivated ecosystem also gives food brands access to a thriving community of health care practitioners and health conscious consumers, helping us all to live more healthfully."
ABOUT ACLM: The American College of Lifestyle Medicine (ACLM) is the medical professional society for those dedicated to the advancement and clinical practice of Lifestyle Medicine as the foundation of a transformed and sustainable health care system. Lifestyle Medicine is the use of an evidence-based whole food, plant-predominant dietary lifestyle, regular physical activity, restorative sleep, stress management, avoidance of risky substances and positive social connection as a primary therapeutic modality for treatment and reversal of chronic disease. Learn more at http://www.lifestylemedicine.org.
ABOUT PLANTRICIOUS: Plantricious is on a mission to make plant-nutritious food choices easy. Our Plantricious seal provides the food industry and the public a trusted and transparent way to identify healthy, plant-nutritious foods, and our curated ecosystem provides food brands with access to a large community of health care practitioners and health-conscious consumers. Learn more at http://www.plantricious.com.

Share article on social media or email: