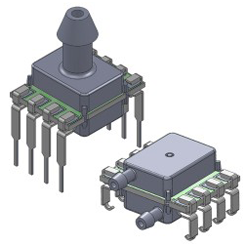 WILMINGTON, Mass. (PRWEB)
July 19, 2021
Heilind Electronics, a leading distributor of electronic components and an authorized distributor for All Sensors Corporation (an Amphenol company), has added the manufacturer's ELV Series of analog and digital pressure sensors to its catalog. The sensors feature CoBeam2 technology — an innovative sensing element technology offering best-in-class, ultra-low pressure sensing for superior stability and performance.
The ELV analog and digital pressure sensors are intended for OEM customers who require high stability along with low and ultra-low pressure ranges. In addition, these solutions offer the ability to customize calibrations and pressure ranges. Designed to ease integration of the sensors into a variety of systems, the series' 4V analog, I2C or SPI interface is calibrated and compensated to provide accurate, stable output over a wide temperature range (minus 25 degrees Celsius to plus 85 degrees Celsius). As a lower cost option, a zero degrees Celsius to 50 degrees Celsius temperature range is also available.
Featuring pin for pin compatibility with alternate suppliers, this solution is available for pressure ranges of 0.5 inH2O to 150 PSI — including calibrations from 2.5 mbar to 10 bar.
ELV Series pressure sensors are intended for use with non-corrosive, non-ionic gases such as air and other dry gases. A protective Parylene coating is optionally available for moisture/harsh media protection for pressure ranges of plus/minus 10 inH2O (plus/minus 25 mbar) and above.
Ideal applications for these sensors include HVAC; instrumentation; medical devices; and pneumatic, environmental and industrial controls.
Visit Heilind's website for more information on All Sensors' ELV Series.
About Heilind Electronics
Heilind Electronics, Inc. (http://www.heilind.com) is one of the world's leading distributors of connectors, relays, sensors, switches, thermal management and circuit protection products, terminal blocks, wire and cable, wiring accessories and insulation and identification products. Founded in 1974, Heilind has locations throughout the U.S., Canada, Mexico, Brazil, Germany, Singapore, Hong Kong and China.
About All Sensors
All Sensors Corporation is an industry leader in the design and manufacture of MEMS piezoresistive ultra-low pressure sensors. All Sensors' product line is notable for its high accuracy and repeatability. The sensors are particularly suited for low and ultra-low pressure applications for flow measurement and control. Pressure ranges are available as low as 0.25 inH2O and as high as 150 PSI. Custom port fittings and various package options are available, as well as customizable pressure ranges and performance values.
Share article on social media or email: